31.10.2005
Inesa & Sven:
"Der 22. ist unser Glückstag!"
My name is Inesa Lupulciuc. I came from Moldova. I'd like to thank you for my happiness. I'm really happy. What a person can wish more?!!!!
My story began on August 2004. One of my friend advised me to create my profile in your site. I was sure it wouldn't work. But she was so insisting and convincing that I decided to do it. I was completely pessimistic.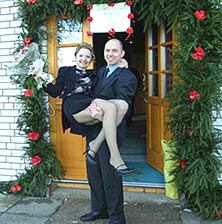 But next day after registration in your site, HE called me. I was surprised.
The 22nd of August was beginning of our big love. 
He was so interesting in me that called me every 2 hours. On 9th of October 2004 he visited me in Moldova. We had been so sure in our feelings that on 10th of October celebrated our engagement. We spent a wonderful week together. at the same time he had possibility to know my parents, relatives. But time passed so quickly and on 16th of October he came back to Germany.
I didn't feel the distance between us, his often calls always warmed my heart. We could read each other's thoughts, like we had knew each other for a long time. I had no doubts that I would like to marry him, we have so much in common, I can't imagine my life without him now!
Since he left I began to legalise a huge list of different documents to get a marriage visa. I was again pessimistic, I knew how is difficult to get this kind of visa. The Embassy rules tells that a person can get a marriage visa in 6-8 weeks.
But he again encouraged me. Only his strong character and ability to persuade people, helped me to pass all obstacles. He wrote many letters to German Embassy in Moldova, called them, just to make this process faster.
All his and my papers were perfect, he is respectable teacher,- all these factors gave a wishing result.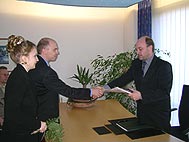 One day he called me and told to seat down because I got visa. At this moment I was in the street, I couldn't stay, I seat down on the pavement. I got visa in 3 weeks, it's unbelievable! Next 2 weeks I was preparing my baggage. On 25th of November 2004 I was in his arms. My prince found me, fight for me and now I'm his forever!
On the 20th of January 2005 we made a party for all neighbours and friends.
On the 22nd of January 2005 was our big wedding. In the church of famous castle we said to pastor "YES".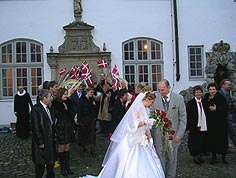 Now I'm Frau Nissen.
This is our happy end.
With deep respect
Inesa and Sven Nissen
All our marriage pictures you can see at
www.nissen-network.de/hochzeit.htm